Vol.184 - Along Southern Lines Part 7 - Dorset (75-mins) (Release 21st.April 2014)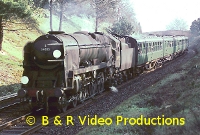 £19.75
**IN STOCK** THE VIDEO/DVD THAT HAS JUST ARRIVED AT WOLVERTON RAIL IS.... :-)
The Southern always seemed to be the happy friendly holiday line. Their public relations officer the great Sir John Elliot's slogan was the sun always came soonest to the Southern. This volume begins at Waterloo Station where many happy parents weighed down with suitcases, and their excited children carrying their buckets and spades started their holidays.
We see rebuilt Bulleid pacifics depart from Waterloo. The prestigious Bournemouth Belle is seen passing through Clapham Junction and Common. One of Maunsell's famous Schools is seen at Woking. A brief visit across country to Guildford where an N Class mogul departs on a train. We quickly return to the Bournemouth main line and several rebuilt pacifics are seen at SouthamptonCentral. This is followed by a nice sequence at Millbrook. The Redbridge causeway is crossed and a Maunsell S15, Standards and Bulleids are seen at Totton station. A trip is taken down the Fawley branch behind two USA tanks. An earlier special sees an H16 tank at Fawley.
Rejoining the mainline, we have a footplate trip into the New Forest complete with views of it's famous ponies. There are scenes at Lyndhurst Road and shots of Bulleids at Brockenhurst. The Lymington branch train is seen arriving and departing. Standard Class 4, Ivatt and M7 tanks are seen on the branch. There is even a trip behind a Q1 on a railtour. Travelling further west we see Bulleids and Standards climbing Sway bank. A nice long sequence of film at Bournemouth Central station and shed follows, with many engines seen including Lord Nelsons and M7s. Next stop is the now closed line to Bournemouth West. The severely curved platform at Poole sees plenty of activity.
The rarely filmed lines to the west of Poole and the Oxbow bridge are seen, before we head for Wareham and the Swanage branch which is fortunately beautifully preserved. Standard and Ivatt tanks are seen on the line, along with specials top and tailed by Bulleids and Standard 4s. The sun did not always shine and we see some shots taken in the pouring rain. On departing the branch and Wareham, several shots are seen across Ashley Heath before arriving at the old Dorchester South Station with its separate up and down platforms and its complex movements before the station was rebuilt. Bulleids reign supremely here. A train is then boarded for the journey to Weymouth.
All the archive film is in colour apart from a few seconds in black & white.. An authentic soundtrack has been added along with a researched commentary. Cover Photo:- Jim Clemens. 34095 "Brentor" between Bournemouth and Poole, 1965
All text is © Wolverton Rail (a trading name of ADVANCE MICRO COMPUTERS LTD.)
find out more

Cab Ride GBRF25: Peterborough - Doncaster - Selby (111-mins) (DVD-R)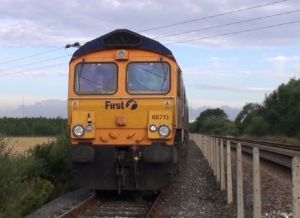 £21.98
A cab-ride aboard a Class 66 loco from Peterborough to Potter Group Sidings at Selby passing through Peterborough Station, Grantham, Newark North Gate, Retford, Doncaster, Temple Hurst Jn, Selby Canal Jn, Selby South Jn, Selby, Selby Swingbridge & Barlby North Jct before terminating at Potter Group Sidings at Selby.
find out more

Cab Ride GBRF32: Widdrington Sidings - Alcan Power Station - Port of Tyne Branch (198-mins) (2*DVD-R)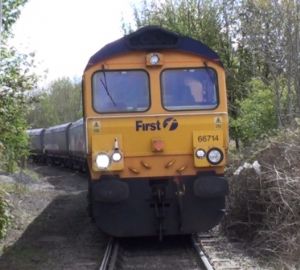 £25.99
A cab-ride aboard a Class 66 loco from Widdrington Sidings, along the 'up' Blyth & Tyne to Newsham South Jn, then changing ends and travelling to Alcan Power Station, then along 'down' Blyth & Tyne to Benton Jn, Manors, Newcastle, Heworth & Fellgate terminating at Boldon West Jn near Brockley Whins.
Passing through the following locations:- Pegswood, Morpeth North Jn, Hepscott Jn, Bedlington South Jn, along the 'up' Blyth & Tyne, Newsham South Jn, changing ends along the 'up' Blyth & Tyne to Alcan Power Station, then along the 'down' Blyth & Tyne to Benton Jn, Manors, Newcastle, Heworth & Fellgate ending at Bolton West Jn near Brockley Whinns.
find out more
Cab Ride GBRF31: Port of Tyne Branch (Newcastle-upon-Tyne) to Widdrington via Alcan (188-mins) (2*DVD-R)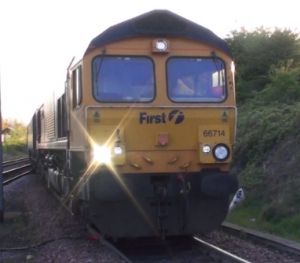 £25.99
A cab-ride aboard a Class 66 loco from Port of Tyne Branch near Newcastle along the 'down'Blyth & Tyne branch to Alcan Power Station then along the 'up' Blyth & Tyne to Morpeth North Jn to Widdrington Sidings passing through Fellgate, Heworth, Newcastle, Manors, 'down' Blyth & Tyne to Alcan Power Station, then along 'up' Blyth & Tyne to Bedlington South Jn, Hepscott Jn, Morpeth North Jn, Pegswood & Widdrington.
find out more

Cab Ride GBRF40: Helenburgh Upper to Millerhill Yard and Drem (220-mins) (2xDVD-R) [GBR40]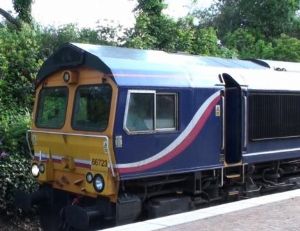 £25.99
A cab ride journey aboard a Class 66 loco of GBRf from Helensburgh Upper to Millerhill Yard (Edinburgh) and onwards to Drem on the East Coast Main Line passing through Craigendoran (West Highland Loop) Cardross, Dalreoch, Dumbarton Central, Dumbarton East, Bowling, Kilpatrick, Dalmuir, Singer, Drumry, Drumchapel, Westerton, Maryhill, Summerston, Gilshochill, Possilpark & Parkhouse, Ashfield, Springburn, Stepps, Gartcosh, Coatbridge Central, Whifflet, Mossend Yard (Glasgow) Holytown, Carfin, Cleland, Hartwood, Shotts, Fauldhouse, Breich, Addiewell, West Calder, Livingston South, Kirknewton, Curriehill, Wester Hailes, Kingsknowe, Slateford, Newcraighall, Millerhill Yard (Edinburgh), Wallyford, Prestonpans, Longniddry & Drem before dusk and then terminating at Helensburgh Upper.
find out more